With thousands and thousands of fictional characters, choosing your next anime costume isn't exactly easy. In this chapter, we have summarized the eleven most popular outfits for you. They are not only suitable for conventions, but also as Halloween costumes, for example.
Hisoka Cosplay
A popular character among cosplayers is Hisoka Morow from the manga "Hunter x Hunter". The comic is about the boy Gon and his life as a so-called Hunter.
He embodies a particularly privileged person who lives in a parallel world. The fictional character Hisoka is a former member of the "Phantom Troupe". Hisoka's appearance is primarily characterized by a muscular physique and very fair skin.
His clothing features various card symbols such as hearts or spades. He wears a blue teardrop under his left cheek and a pink star under his right cheek.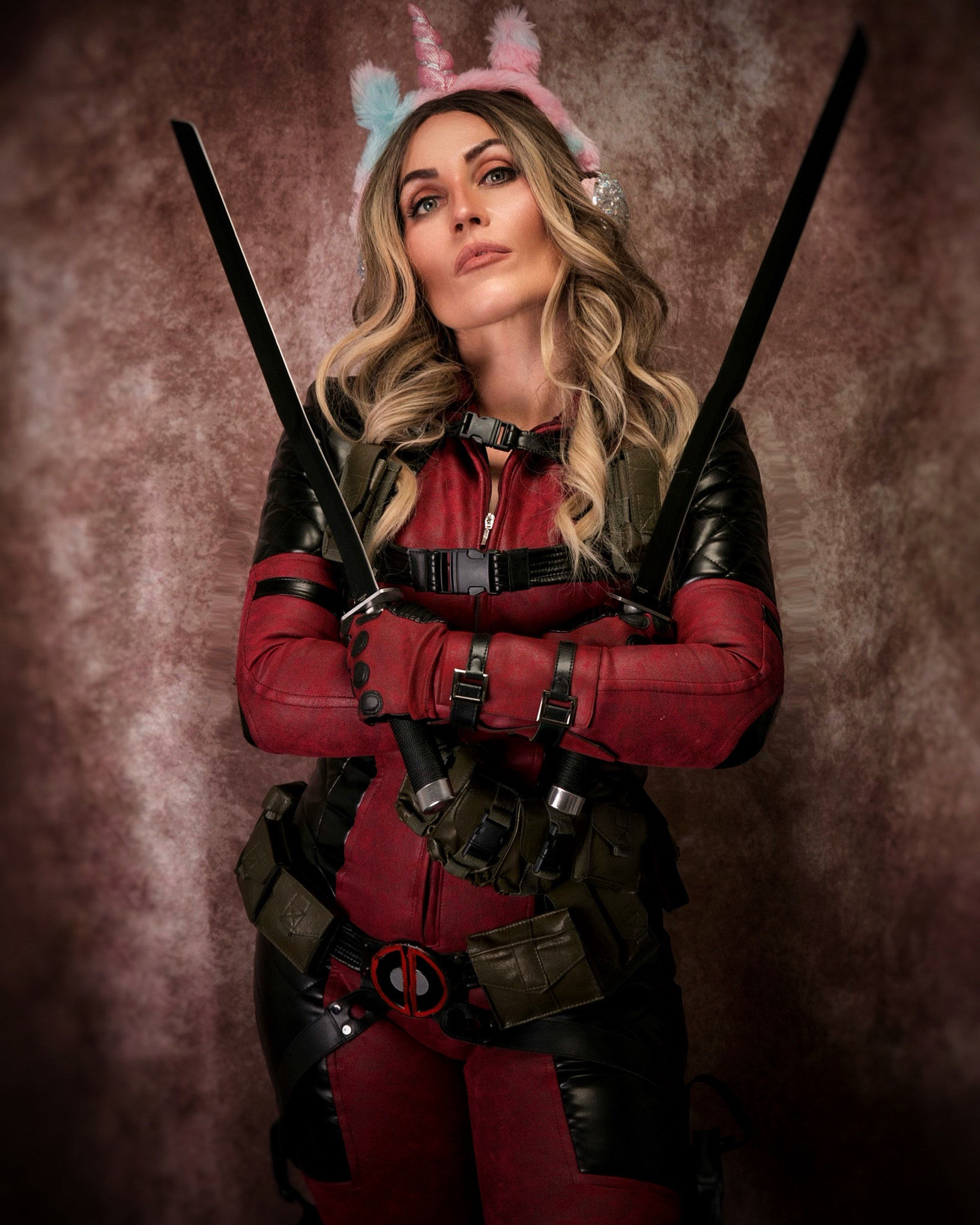 For the cosplay costume you will need:
long pink stockings with horizontal stripes
purple wide pants in a pastel shade
sleeveless black top with two card symbols on the front and back side
pink wig
yellow scarf
black khussa shoes
Harley Quinn Cosplay
Harley Quinn is a comic book character from the popular animated series "Batman". The name Harley Quinn comes from a play on words. It alludes to the English word "Harlequin". The harlequin was a classic character in theatrical plays during the Renaissance.
In "Batman" Harley Quinn is known as the sidekick of the villain "Joker". The classic outfit from the old comics consists of a black and red jumpsuit and a jester's hat.
However, in other film adaptations Harley Quinn wears shorts, a jacket and a T-shirt. Her white hair is braided into two pigtails and dyed in blue and red respectively.
For the Harley Quinn costume you will need:
black fishnet tights
blue and red hot pants with sequins
white t-shirt
white long hair wig
golden studs
belt buckle
black and white ankle boots
baseball bat
Sakura Cosplay
As a member of Team Kakashi, Sakura Haruno is one of the main characters of the manga series "Naruto".
Together with the other main characters Naruto and Sasuke, Sakura has to master difficult missions again and again – for example, fighting ninjas. The young girl is characterized especially by her green eyes and pink hair.
To make the cosplay outfit you will need the following:
short red cheongsam
wide black belt
short black pants
black gloves
pink fabric elbow and knee pads
black boots
pink short hair wig
black headband
Black Widow Cosplay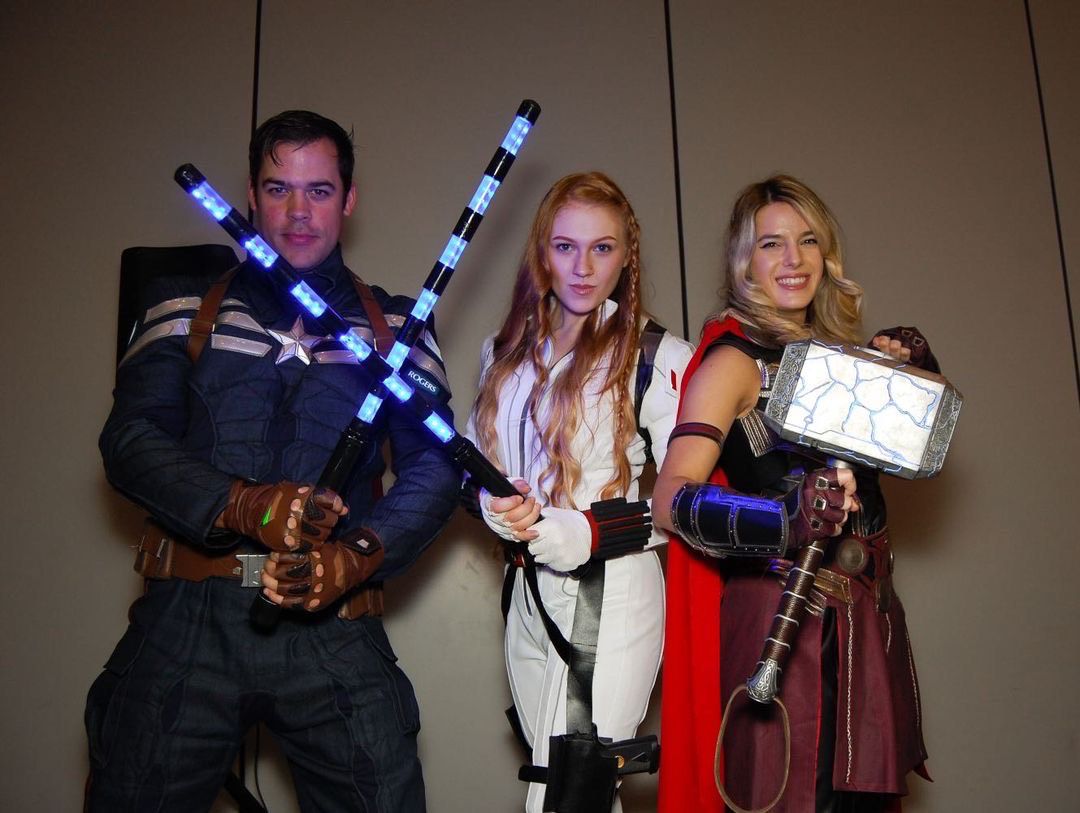 Natasha Romanoff aka Black Widow is a talented spy from the Marvel universe. You can see her in these movies, among others:
Iron Man 2
Captain Marvel
Avengers: Infinity War
Avengers: Endgame
In the comics, she usually plays a supporting role, for example, as an enemy of Iron Man. In the movie version, Black Widow has an outstanding expertise in hand-to-hand combat and espionage. Thus, she was able to work her way up to a high-ranking agent of the secret service "S.H.I.E.L.D.".
Now, to create a cosplay costume, you'll need the following:
black latex-like jumpsuit
red long hair wig
black fingerless gloves
black boots
silver belt
black utility belt
black weapon holster
two toy guns
Tokyo Revengers
The manga series "Tokyo Revengers" enjoys great popularity among cosplayers. The plot tells about the protagonist Takemichi Hanagaki. The young man has the ability to travel back in time. To save people important to him, he becomes a member of the Tokyo Manji Gang. A popular character is the leader of this gang – Manjiro Sano.
For the costume you will need:
black coat
wide black trousers
white boots
blond wig
white long-sleeved top
Star Wars Cosplay
The "Star Wars" series is one of the science fiction classics par excellence. Popular characters for cosplayers include:
Darth Vader
Obi-Wan Kenobi
Darth Maul
Ahsoka Tano
Boba Fett
Another popular fictional character from the Star Wars universe is the Corellian Han Solo. In the movies, you'll often see him alongside his hairy friend Chewbacca.
For the Han Solo outfit you need:
black vest
black trousers
white shirt
black boots
brown weapon holster
brown wig
toy gun
Astolfo
The character Astolfo appears in the Japanese anime series "Fate/Apocrypha" – it is based on plot of the novel of the same name. Fate/Apocrypha is set in the city of Fuyuki, where there was once a war over a holy grail.
Astolfo is a young man who is often mistaken for a woman. Astolfo is called the "Rider" of the black faction. The character is characterized mainly by pink hair and feminine facial features.
For the costume you will need the following:
pink wig
pink skirt
white top
black hair bows
white knee socks
black ankle boots
Nami Cosplay
The anime character Nami is the navigator and cartographer of the Straw Hat Gang from "One Piece".
The said gang is searching for a legendary treasure of the pirate king "Gol D." in a fictional world. Nami is a fair-skinned woman with brown eyes. A distinguishing feature of her orange hair is a long strand that hangs down in front of her left ear. Her left shoulder is adorned with a tattoo – the motif is a windmill and an orange.
Here's what you need for your Nami costume:
dark blue denim pants
blue bikini with white stripes
orange long hair wig
belt
blue staff
orange sandals with heel
Yumeko
The Japanese anime series "Kakegurui" has given birth to the ever-popular character Yumeko Jabami. The series is about an academy that is only for the richest children in the country.
The students are supposed to learn certain gambling strategies there in order to become even richer. In the process, Yumeko tries to become a "model gambler".
For your anime cosplay outfit the following things are needed:
black plaid skirt
black leggings
red jacket
white shirt
black wig with bangs
black ankle boots
red contact lenses
Sailor Moon Cosplay
Probably the most famous Japanese anime series is "Sailor Moon" – it is based on a manga comic.
The story tells about a girl named Bunny who gradually remembers that she is a moon princess.
As a brave warrior, she fights against evil together with her friend Tuxedo Mask.
Moon Princess anime outfit includes:
red knee socks
white top with blue collar
blonde long hair wig
white and red elbow gloves
red boots
blue dress
moon shaped wand
Squid Game
"Squid Game" is a South Korean drama series in which a group of people participate in a mysterious and deadly game – a prize money of several billion won awaits the winner.
The most popular cosplay costume from the series is the guard costume. Not only does it look good, but it's also easy to put together.
What you need:
pink jumpsuit with hood
black belt
black mask with symbol (circle, square, or triangle)
toy machine gun
black shoes